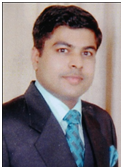 Dr. Sushrut Gupta
Senior Consultant Physiotherapist
Our Services
Physiotherapy uses simultaneous electrotherapy and manual therapy in conjunction with hands-on treatment to facilitate recovery. Your treatment is based on the well-practiced Physiotherapy principles, informative patient education and a customized rehabilitation process. A focused personalized treatment plan is designed as per individual needs in order to provide the best possible treatment for early relief. Services available at the clinic include :
Conditions Treated
Neck pain, Cervical Spondylosis , vertigo
Shoulder pain , Frozen shoulder
Elbow pain , Tennis elbow , Golfer's elbow
Hand Pain , Wrist pain – carpal tunnel syndrome
Joint Pain,Osteoarthritis , Rheumatoid arthritis
Ligament Sprain
Muscle Strain
Tendinopathy, Bursitis
Post Fracture Stiffness
Muscle Spasm, Cramps
Pediatric Rehabilitation
Gynecological Rehabilitation
Neurological Rehabilitation (Paralysis)
Geriatric Rehabilitation (care of the elderly)
Orthopaedic Rehabilitation
Cardiopulmonary Rehabilitation
Sports injuries Rehabilitation
Hand Rehabilitation
Low back Pain, Slip disc , Lumbar spondylosis, Sciatica
Acute & Chronic Sinusitis
Diabetic Neuropathy
Ankylosing spondylosis
Hip pain, Knee pain, Shin pain
Ankle Pain, Heel pain,
Plantar Fasciitis
Soft tissue Injury, Swelling,
Tendon Injury
Polyneuropathies i.e. Radiating Nerve Pains.
ELECTROTHERAPY
Ultrasound
Muscle stimulator
TENS
Interferential Therapy
Cervical Traction
Lumbar Traction
Short Wave Diathermy
Long Wave Diathermy
Paraffin wax bath
Hydrocollator unit
EXERCISE THERAPY
Personalised exercise programmes
Patient education
Postural evaluation
Accupressure for pain relief
Skilled Manual therapy including joint and soft tissue mobilisation.
Specific Sports Injury Rehabilitation including regaining strength, conditioning and stability in the long run to correct muscle imbalances & efficient normal movements.
Improving balance, co-ordination and developing muscle control.